canvas is a "hormone care" service that supports everyone who wants to take control of their lives.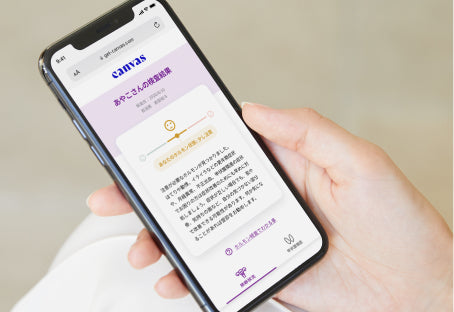 We strive to give you better access to healthcare
A woman's life, including menstruation, PMS, pregnancy, and menopause, is greatly influenced by hormones. However, the reality is that even if there is something that bothers you, you may wonder whether you should see a doctor, or you don't know how to handle it by yourself. In order to solve these problems, we collaborate with medical experts to provide items/information/services that allow women to know their own bodies, and access hormonal and medical care.
Product line-up
At-home hormone test
Our at-home hormone test allows women to understand their physical condition based on hormonal levels, and offers tailored support for a doctor's follow-up.
Personalized kampo
Kampo by canvas
The same quality kampo medicine as a kampo pharmacy, from home.
Kampo by canvas is a service that allows you to find out which Kampo medicine best suits your physical constitution and concerns specific to women by talking to a pharmacist via LINE.
Why canvas
You can easily order online and test at home
canvas is designed for those who is reluctant to see a doctor, or for those who don't like the long waits at a clinic: You can have your hormones tested or order kampo from home at your convenience.
You can receive personalized care from doctors and pharmacists
Doctors provide easy-to-understand comments about hormones and your physical condition, which can be difficult to understand due to lack of time at a doctor's office. In addition, our pharmacists are always available for consultation regarding kampo.
You can learn what actions to take
You will be able to learn how hormones affect your physical condition, pregnancy, menopause, etc., and what options you have based on your results.
canvas has been featured in the following publications.
What our customers have said
I myself learned about my physical condition from the results of the hormone test, and my way of thinking about family and career design changed greatly.
The reason I decided to take the test was because I suddenly started having irregular menstruation. However, I was on a business trip and it was extended for another month, and I was exhausted with non-essential parts, so I wished I had used this service sooner.
S.S / 30's
Thank you for participating! It really helped me rethink my body.
M.K / 20's
This is an epoch-making tool for people who do not have access to a gynecologist or who are too busy to go to a gynecologist. I was.
N.H / 30's
The medical professionals at the heart of canvas.
Ayako Hasegawa
Founder and CEO
Ayako was a management consultant at Accenture, with a focus on M&A and strategy for communications and pharmaceutical companies. Later, she joined the investment banking division at Goldman Sachs covering TMT/healthcare clients. After working at Heart Driven Fund, an investment arm of Akatsuki Ltd., she founded Vitalogue Health.
Ayako holds a BSc and MSc from the University of Tokyo, specializing in neuroscience and pharmacology. She also earned an MBA from London Business School. She is a certified pharmacist with a specialty in traditional herbal medicine.

Prof. Koichi Terauchi
Graduated from Tokyo Medical and Dental University School of Medicine in 1994. Trained at the Department of Obstetrics and Gynecology, Tokyo Medical and Dental University Hospital, National Health Insurance Asahi Central Hospital, and Otsuka Hospital.

2003 Doctor of Medicine. 2005 Emory University Research Fellow. Since 2012, Associate Professor at the Graduate School of Medical and Dental Sciences, Tokyo Medical and Dental University.
Hiroto Maeda
Graduated from the University of Tokyo, Faculty of Medicine. A certified obstetrician and gynecologist. Trained at Kawasaki Municipal Hospital, and at Kobe City Medical Center General Hospital. Had a perinatal fellowship at the National Center for Child Health and Development.